PHOTOGRAPHY
For many of our web clients we also provide photography services, and for some we only do photography. Michael Hallström, co-founder and owner, is a graduate of Santa Barbara's Brooks Institute of Photography, and has an extensive background in photography. He has worked as a commercial photographer for twenty years and brings a wealth of experience in both advertising and editorial photography. Prior to starting Hallström Design, Michael worked as an editorial photographer in the U.S. for music magazines in Europe. Michael's creative vision is multifaceted spanning a variety of visual-arts disciplines. His professional experience includes art director, photographer, designer and professional musician. Please visit HallstromFoto.com to view photography samples.


GRAPHIC DESIGN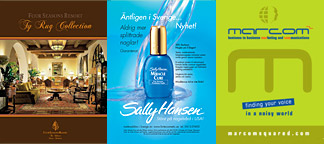 We design brochures, catalogues, view books, logos and other forms of print design.

By providing our clients with a variety of visual services we deliver content with one unified vision that truly reflects consistency throughout all your marketing material.